About us
Konesilta Oy is a financially sound and leading importer and seller of new and used machinery for the earthmoving industry. We are the official importer and seller of Kubota earthmoving equipment in Finland. Check out Kubota's earthmoving equipment here!
Our strengths include excellent product knowledge and a wide range of over 250 used machines in different price ranges. We are known as a reliable full-service equipment supplier – since 2001 we have sold well over 5,000 machines to satisfied customers across Finland and the world.
Our offices are located in Kärsämäki, Tampere and Tuusula. Check out our used machines and find yours »
Check out Konesilta's 20-year journey and our values, vision and strategy from the links below.
Family business
Konesilta is a family business and is a member of the Finnish Family Firms Association.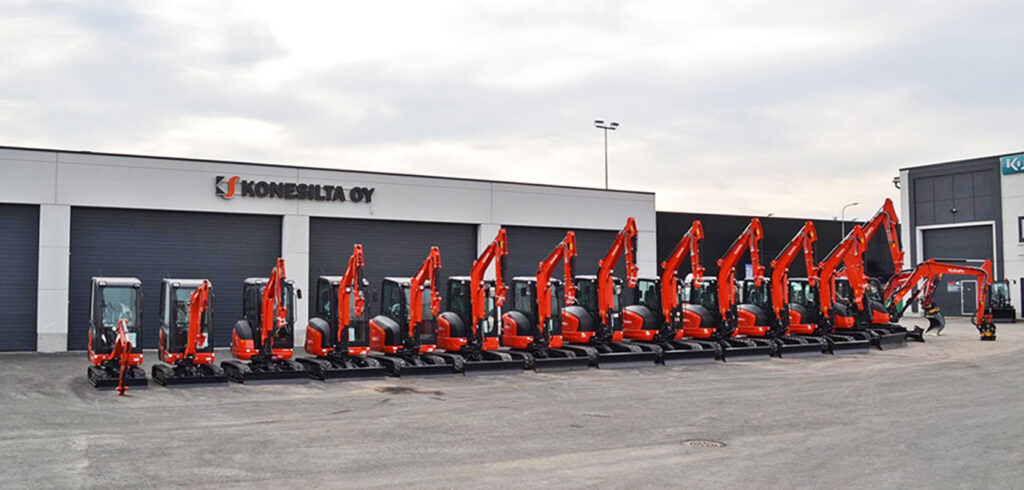 Used machines at competitive prices
Our business idea is simple: high volume, efficient operation and low fixed costs enable the sale of very good used machines at competitive prices. Welcome to explore the site or click attachment shop or used machines shop!
Selection of more than 250 used machines
Mini excavators
Midi excavators
Crawler excavators
Wheeled excavators
Wheel loaders
Comprehensive supply of quick couplers, buckets, grapples and specialty buckets!
Service and customisation centre
Our service package also includes having our own service and customisation centre, which enables us to serve you individually, taking your needs into account.
Our delivery service will deliver your equipment conveniently!
Our delivery service ensures that machines are delivered directly to the desired address quickly and flexibly. Erikoiskuljetus kyllönen oy is offering reliable heavy haulage services with experience. We also collaborate with koneselkä oy, an importer and seller of earthmoving equipment.